Bagged Ice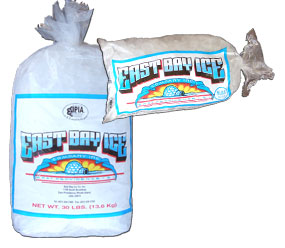 Bagged Ice comes ready to use in 30lb and 5lb bags and is primarily used in coolers and to chill drinks. All bag sizes can be purchased separately or palletized.
Crystal Clear Block Ice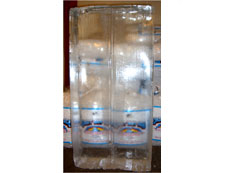 Primarily used in coolers and for creating ice sculptures. Crushing of blocks is available on-site at our East Providence platform. Available sizes range from 25 to 300 pounds.
Ice Luges
Our "Wicked Cool" Ice Luges are the ultimate party accessory! Our ice luges are carved from crystal clear 300 lb blocks. The ultimate chiller, our luges put the "fun" in functional! Begin the pour at the top and whoever's at the bottom enjoys the chill! Two slopes provide for two people at the same time. Drip trays are available. Call ahead for ordering.
Ice Sculptures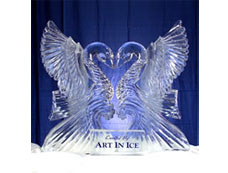 Beautiful Ice Sculptures by Art In Ice. Using our 300 lb block ice, Art In Ice creates amazing centerpieces, sculptures, or working displays for your special occasion. Contact Art In Ice directly for more information: 401.732.1838 - or - visit their website www.artiniceinc.com
Dry Ice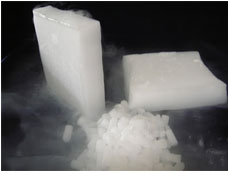 Dry Ice is sold in 10 pound blocks. For more information on using dry ice, visit dryice.com.
Ice Bowls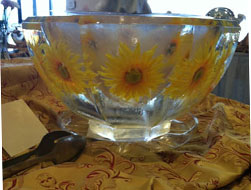 Whether you are hosting a wedding, a shower or a block party, our decorative ice bowls are a functional and fun addition to any occasion. These centerpieces are the perfect chiller for your buffet or bar. Perfect for serving beverages or self-serve items such as shrimp cocktail or fruit salad. We insert a plastic liner in the middle of the bowl so that dilution isn't a problem! Each bowl holds 2 gallons.
stay in touch
East Bay Ice
1109 S Broadway
East Providence, RI 02809
401.434.7485

Glacier Ice
254 Market Street
Warren, RI 02885
401.245.3290
sales@eastbayice.com

find us to get the latest updates!